Needles in rubbish pose infection risk for Arun binmen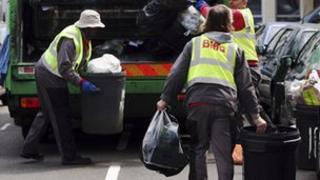 Two binmen from West Sussex are facing a risk of infection and months of blood tests after being accidentally pricked by hypodermic needles.
The needles had been left incorrectly in black bags by a resident for collection in the Arun district.
Despite wearing protective clothing, both men were pierced in the hands.
Laura Parker, business manager of Biffa, the company contracted to the collect bins, said: "Needle sticks are a very real danger to my staff."
She added: "They wear gloves and ballistic nylon trousers but those won't stop a needle stick."
'Worrying tests'
The two men were taken to hospital immediately. They will have 24 weeks of medical and blood tests to check if they have been infected. The injuries can transmit diseases such as potentially fatal hepatitis.
Ms Parker said that the affected workers would have to go through a "really worrying six months of medical tests - and all because someone carelessly put needles in their black bag".
According to the contractor there has been an increase in instances of needles, broken glass and knives being incorrectly disposed of in refuse.
Two other workers recently cut their gloved hands when they picked up refuse sacks containing broken glass and pottery.
Ms Parker said in such cases householders would be contacted, and the company could choose not to pick up refuse from their address.
A free needle collection service is provided by Arun District Council for residents wanting to get rid of their hypodermic needles safely.
Residents wanting to dispose of broken glass, pottery or knives are asked to wrap them in paper or cardboard first.