Johnny Ball is awarded Brighton University honorary degree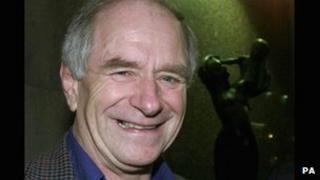 Johnny Ball, the man who taught generations of children maths, has been awarded an honorary degree in science at the University of Brighton.
Mr Ball, whose daughter Zoe Ball lives in the city, popularised science and maths for children with his 1980s television series Think of a Number.
He was awarded an honorary degree for inspiring young people to take up maths and science.
"An honorary degree in science is very special," said Mr Ball.
"I was a failure at school and I've done it all myself, in a way. So I'm always thrilled when academia honours me.
"I'm overwhelmed by it really - it's just lovely."
Radio and TV presenter Zoe Ball accompanied her father to the awards ceremony.
She said: "I'm very proud of this man, my dad, he's an incredibly clever chap.
"But I think what makes me most proud is how much he has inspired people, and the way he encourages people to get involved in education and how learning should be fun."
Other award recipients included Live Aid organiser Harvey Goldsmith, who received an honorary doctorate for his contribution to music and humanitarian causes.