Save The DGH campaigners hold Eastbourne demo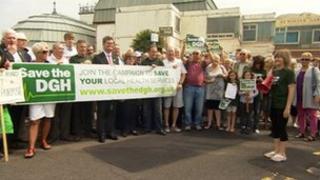 A demonstration has been held outside a public consultation session for changes to hospital services in East Sussex.
East Sussex Healthcare NHS Trust invited the public to discuss its proposal to centralise some services.
More than 200 people campaigned against the changes outside the event at Eastbourne's Congress Theatre.
The trust wants to provide stroke care, unplanned general surgery and unplanned orthopaedic services in either Hastings or Eastbourne.
Currently these services are provided at both the Eastbourne District General Hospital (DGH) and at Hastings' Conquest Hospital.
Liz Walke, from Save The DGH campaign, said: "These services are needed in an emergency.
"If your standard of life is actually hugely compromised by travelling those distances it's not worth it."
Stephen Lloyd, the Liberal Democrat MP for Eastbourne, was among the campaigners outside the theatre.
'Goals not achievable'
East Sussex Healthcare NHS Trust said it wanted every planned operation to go ahead on time and for patients needing unplanned diagnosis and treatment to be treated swiftly.
It added that these goals were not currently achievable and its proposal to centralise services aimed to change that.
Dr Martin Writer, who is a GP in Eastbourne, said: "We believe that these changes will mean that that speeds up the time from having a stroke to receiving the necessary treatment.
"It also means that we'll be able to offer a seven-day-a-week service in all the therapies that we can't currently do."
The 14-week public consultation called The 14-week public consultation called Shaping our Future ends on 28 September.
The trust said it expected to make a decision on its proposals by the end of the year.