Gulls found dead in Seaford 'possibly shot'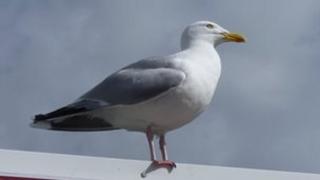 Sixteen gulls found dead in an East Sussex resort within the past week are thought to have been deliberately targeted - and possibly shot - the RSPCA said.
The birds were found on grass verges and other areas around Seaford.
Insp Laura Bryant said the number of deaths in such a short time had led to the belief the gulls had been attacked.
It is illegal to harm gulls as they are protected under the Wildlife and Countryside Act 1981.
"Shooting birds can cause a great deal of pain," Insp Bryant said.
"Every year there are problems involving people attacking gulls and people need to remember that this is against the law.
"Gulls are as synonymous with the seaside as ice cream, but are all too often seen as a pest by people rather than part of the wildlife around them."
'Shockingly savage'
The RSPCA said it received 37 cruelty complaints concerning gulls last year, including reports of them being shot, having their nests destroyed and people throwing stones at them.
So far this year there have 135 similar complaints.
A campaign has been launched by the charity's Mallydams Wood wildlife centre in Hastings to educate people about gulls.
Bel Deering, manager, said: "Lots of people, even animal lovers, have surprisingly fierce feelings against the poor old gull.
"They see them as pests and a nuisance rather than just opportunist creatures simply following the food source.
"We have hundreds of gulls in our centre in need of care every year. Sometimes the gulls are injured by natural causes, but others are definitely the victims of purposeful attacks, some of them shockingly savage."