Getaway truck fails in bungled Hassocks ram-raid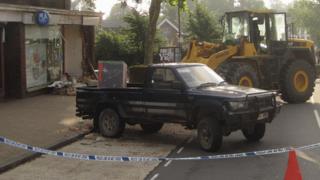 Ram-raiders who smashed into a bank in West Sussex with a digger and loaded a cash machine on to a getaway truck were forced to flee when it failed to start.
The bungled raid on the Barclays branch in Keymer Road, Hassocks happened at 03:10 BST.
Two men wearing dark clothing were seen running in the direction of Chancellors Park after they failed to get the blue Toyota pick-up started.
Flats above the bank were evacuated amid fears the building was unsafe.
Police were called after residents reported that the digger had been driven into the wall at the front of the branch.
Witness Paul Bowley, who runs a funeral service opposite the bank, said he saw the cash machine being loaded on to the back of the truck before a man ran off when it would not start.
Digger stolen
Another witness, 50-year-old Jeremy Crooks, said: "The safe is in the truck, ready to be driven away. They were obviously rumbled just before they were about to drive away.
"The police must have turned up or something happened."
Police said the digger used in the ram raid was stolen from a quarry at Plumpton, near Lewes earlier.
Det Sgt Steve Tattersall appealed for anyone with information to come forward.
"The inquiry is at an early stage and it is not yet clear why the two men abandoned the vehicles and ran off without the cash machine," he said.
"In particular the digger, being driven west during the early hours across from Plumpton further along the B2116, would surely have been noticed by anyone was up and about at the time."
The pick-up truck driver is described as about 6ft, slim, and wearing a hooded top.
The road has been closed to traffic while the damaged building is made safe and the digger and truck are removed.