Southern Water row over Hastings baby's lead poisoning test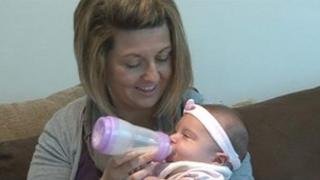 A woman whose baby underwent lead poisoning tests is seeking compensation from Southern Water claiming it sparked a false alarm over her water supply.
Katie Jackson, of Hastings, Sussex, contacted Southern Water after she saw black particles coming out of her taps.
She was told it could indicate lead in the water and nine-week-old baby, Beau, needed urgent blood tests and X-rays.
Later, lead tests on the water proved negative. Southern Water said it seemed there had been a misunderstanding.
Describing what happened, Mrs Jackson said: "The gentleman I spoke to on the phone said there was a strong possibility it could be a breakdown of a lead pipe."
'Poor advice'
She then called the Conquest Hospital, where staff told her to bring Beau in, straight away.
Mrs Jackson said Beau, who had been born prematurely, had to have five tubes of blood taken from veins in her hands, but hospital staff worked for 35 minutes to find the veins.
"She was just screaming the entire time," she said.
In a statement, Southern Water said: "We have established that there appears to have been a misunderstanding between Mrs Jackson and our call centre agent at the time of our customer's initial call based on the information that was provided.
"However, at no time was it stated categorically there was lead in the water supply to the property."
Sue Pennison, principal inspector with the Drinking Water Inspectorate, said: "I think this is a case of poor advice."
She said there were simple ways customers could check their properties.
Pre-1970s properties could have lead, although this is not always the case, she said.
However, post-1970s properties were unlikely to have lead, Ms Pennison said, and consumers could also check metallic pipes by scratching them with a key and checking for a dull grey colour.
'On-the-day tests'
Often, limescale provides a protective barrier inside pipework anyway, she added.
Karen Gibbs, senior policy manager for the Consumer Consumer Council for Water, said Mrs Jackson's complaint was being dealt with by Southern Water.
"The guaranteed standards scheme does say that if a customer contacts the company with a serious concern about their water quality and is concerned that it might be causing some ill-health within the household then the company should come out that day to test the water," she explained.