Michelle Greest's plea to find hit-and-run driver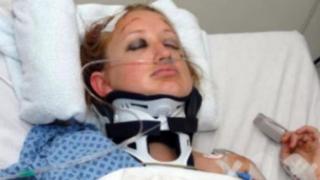 A Sussex woman who had to have blood clots removed from her brain after a hit-and-run crash has urged people to help police find those responsible.
Michelle Greest, 28, of Hove, was struck by a stolen VW Passat Estate as she crossed Kings Road on 15 July after a night out with friends in Brighton.
She is still being treated for serious head and leg injuries at Hurstward Park Hospital, Haywards Heath.
Ms Greest said: "Their next victim may not be as lucky as me."
She is recovering from her injuries but was able to talk to police from her hospital bed about four days after the attack.
"I didn't remember anything about the crash until I woke up in great pain in my hospital bed," she added.
"I have suffered 10 breaks to various bones in my body which include my legs, hips and vertebrae and will not be able to walk properly for some time to come.
"Doctors have told me I had two blood clots on my brain and that I am lucky to have not suffered brain damage as a result.
"Someone somewhere knows who was driving the car that hit me and did not stop.
'Justice for Michelle'
"I don't know how anyone can do such a thing - knock a human being down and just drive on. Luckily I was with people who were able to call an ambulance for me and get me the urgent medical help that I needed.
"Please get in touch with Sussex Police if you have any information that could help find those responsible."
Det Sgt Leon Ryan, of Sussex Police, said: "Michelle is a very brave young woman and is making a great recovery despite her terrible injuries which will no doubt affect her for some time to come.
"I am determined to find those responsible and I would urge anyone who has information that could help us with the investigation to please contact us as soon as possible.
"We need to get justice for Michelle."
Sussex Police believe the same vehicle was also used in a ram raid at a wood flooring shop, in Trafalgar Road, Portslade, on the same day as the hit-and-run crash.
Detectives also think the men responsible also stole items from the flooring centre again on 5 August.
The have released CCTV images of two suspects.