Jewellery gang raids Asian homes in Crawley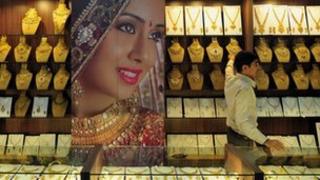 Jewellery worth about £100,000 has been stolen in a spate of thefts at the homes of Asian families in a West Sussex town.
Sussex Police believe one gang raided 12 homes in areas of Crawley including Broadfield, Tilgate, Langley Green and Pound Hill, in July and August.
In each incident, jewellery worth between £1,000 and £30,000 was taken.
Officers believe the robbers are Asian in appearance and find victims by visiting people's homes.
'Hostile reconnaissance'
Sgt Jim Collen said: "We believe the same group of offenders is responsible for all these offences. We also believe they are really quite sophisticated in their approach.
"They are certainly conducting some kind of hostile reconnaissance and they are certainly taking advantage of their knowledge of the local community, targeting households when they know they are going to be vacant, and when they know there is going to be a window of opportunity."
He said officers believed the offenders were visiting homes purporting to be offering cavity wall insulation to identify potential targets.
Farakh Jamal, from the Langley Green Mosque, said the Muslim community was celebrating Ramadan and also Eid, when people would wear jewellery to meet relatives and go to events.
He said: "People become vulnerable because they are fasting during the day. They are going to the mosque, leaving the house empty, and people are at work, so there is quite a lot of vulnerability there."
Imam Sajeed, who runs the Brighton Islamic Mission and is also the chairman of the Muslim Council for Religious and Racial Harmony, said: "Asian people... take jewellery seriously because women especially wear it as an ornament.
"It is cultural issue that women always have the jewellery throughout their life."
He said jewellery was given to women when they married, on birthdays, and other key life events.