Hydrangeas stolen from Hastings and Bexhill gardens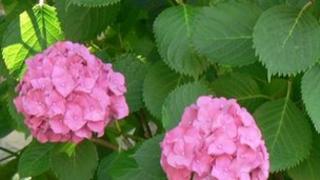 Thieves stealing flowers from gardens in East Sussex could be selling them at boot fairs and fetes, police believe.
Sgt Neale Adams said several dozen hydrangea flowers had been cut from front gardens in the Hastings and Bexhill area over the last three weeks.
"They are damaging the plants and going on to people's properties and stealing so we are treating this quite seriously," he said.
"We have got a series of thefts we are linking together."
Sgt Adams said blooms had been stolen from gardens in the Filsham Valley, Pebsham and Conquest areas of Hastings as well as in Bexhill.
"We think they are being sold at boot fair venues and fetes," he said.
"Or possibly for dried flowers, which can be used as centrepieces at weddings or for Christmas wreaths.
"There is definitely a market for dried flowers."
He said it was believed a man seen in the Conquest area in a white pick-up truck may be linked to the thefts and urged residents who saw any suspicious activity to contact police.