Worthing Birdman competitors launch from pier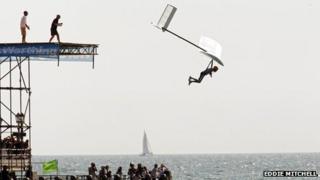 A grandfather is one of about 30 people to launch themselves off a West Sussex pier over the weekend.
Andrew Jarvis, 65, a retired Worthing Hospital orthopaedic surgeon, took part in the town's Birdman competition on Saturday.
A £10,000 prize is on offer for the furthest flight over 100m (330ft). In 2011 it went unclaimed.
The festival runs over two days, with flying due to start at 12:15 BST on Sunday.
Mr Jarvis said: "I've always had a bit of an obsession with this contest and first entered it in 1974 when it was held at Selsey. I didn't get very far and just plummeted into the water."
In 2011 he decided not to fly because of the strong winds, but this year he added a ballast tank filled with water he said.
He came second in his class flying 12.2m and he was in the air for 2.25 seconds, organisers said.
The organisers said prizes would also be awarded to some of the so-called fun flyers on Sunday based on their "entertainment value" rather than the distance flown.
The competition in Bognor Regis was moved to Worthing for two years in 2008 amid fears over the safety of diving off a shortened Bognor pier.
But when the event returned to Bognor in 2010, the Worthing version remained.
Worthing Borough Council said it expected more than 10,000 people to attend the event, which costs more than £60,000 to run.