Hundreds of minis gather in Bexhill for Italian Job screening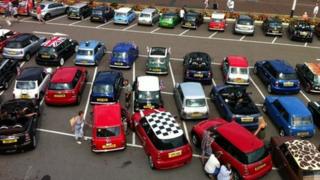 About 200 minis have gathered in East Sussex as part of an event celebrating the 1969 film The Italian Job.
An overhanging bus by artist Richard Wilson was installed on the De La Warr Pavilion in Bexhill in July.
The work, titled Hang On A Minute Lads, I've Got A Great Idea, was lifted on to the roof using a crane as part of the 2012 Cultural Olympiad.
A Michael Caine impersonator will introduce a screening of The Italian Job later.