Young actress Izzy Meikle-Small gets nine A* GCSEs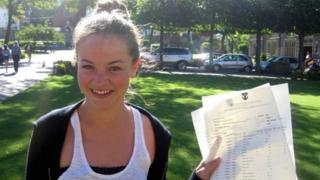 A teenage actress who starred as a young Estella in the BBC's adaptation of Charles Dickens's Great Expectations got nine A* grades and an A at GCSE.
Izzy Meikle-Small, 16, got the grades despite juggling her studies with her role in the 2011 costume drama.
The Brighton College pupil, who was also in the film Never Let Me Go, said: "I'm completely blown away. I never thought I would get anything like that.
"I was hoping for five A*s and five As. I don't know how I did it."
She added: "I had to be really organised and juggle stuff on the train up to London but I somehow managed. It's really hard work but I'm really proud of myself.
"I can't believe it but I'm glad I beat my brother Sam who got seven A*s three years ago in his GCSEs. We are really competitive as brother and sister."
Izzy played a young Kathy in the 2010 film version of Kazuo Ishiguro's acclaimed novel Never Let Me Go.
Oscar-nominated actress Carey Mulligan starred as the older version of her character, alongside Keira Knightley and Andrew Garfield.
Elsewhere in Brighton, Veronica Freeborn, from Dorothy Stringer School, achieved seven A* grades and eight A grades despite having to stay with a relative for several months because her mother was ill.
Head teacher Richard Bradford said: "We are all delighted by Veronica's results which demonstrate what can be achieved with hard work and determination.
"She should be extremely proud."
Veronica plans to go to Varndean College in Brighton to study photography, textiles and English literature.