East Sussex street light savings bid moves to Lewes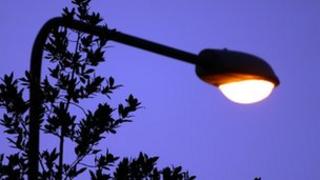 Cost-cutting plans to reduce street lighting across East Sussex are being extended to Lewes.
East Sussex County Council has set out to cut its electricity bill and also reduce carbon emissions.
Residents in Seaford and Uckfield have already taken part in consultation and residents in Lewes will be asked for their views next month.
The council said each town or village had different needs and it would design a plan tailored to each area.
Pilots 'well-received'
Planned changes include turning off some street lights, reducing the number of lights in some residential streets, and dimming lights on main roads, between midnight and the early hours.
Some streetlamps are also being replaced with lower wattage, more energy efficient lights.
Councillor Carl Maynard, cabinet member for economy, transport and environment, said: The pilot schemes in other areas seem to have been well-received by residents and businesses in the area, and the local police say there has been no increase in incidents reported to them.
"But we know each town or village will have different needs."
Consultation will take place in the Lecture Room at Lewes Town Hall on 1 September. People can comment online on the council's website until 17 September.