Yacht washed ashore in Bexhill after leaving Newhaven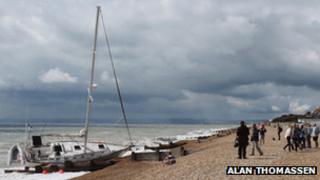 A damaged yacht has been washed ashore in Bexhill, East Sussex, after getting into difficulties shortly after leaving Newhaven on Wednesday night.
A Hastings lifeboat was launched to help the German sailor and his dog but the 22ft (7m) vessel had already run aground and they were safely ashore.
The yacht, which had sailed from the Caribbean, became pinned on a groyne and may now have to be salvaged.
Attempts to re-float it on Thursday morning failed because of hull damage.