Worthing beach alert as sewage pumps fail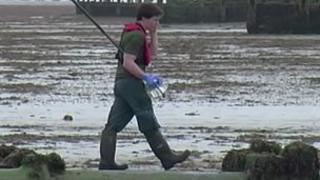 Swimmers are being warned to stay out of the sea at a West Sussex beach after a water company began pumping sewage into the English Channel.
Southern Water said pumps at its East Worthing wastewater treatment works became blocked late on Saturday night.
Some filtered sewage is being discharged through the storm overflow just over half a mile (1km) out to sea.
A fleet of 25 tankers is taking the rest of the sewage to the company's other treatment works.
Southern Water spokesman Paul Kent said engineers were working round the clock to get the pumps working again.
"We anticipate that we will have a pump running this evening which will actually stop the discharge going out to sea and bring it back under control," he said.
'Concerned and disappointed'
"Once we have done that, we can take a step back and look at what has caused the problem and what can we do to minimise that happening in the future."
Surfers Against Sewage campaign director Andy Cummin said it was concerned and disappointed.
"It is not just waste water - it is raw, untreated sewage," he said.
"All of the pathogens associated with hepatitis A, E.coli and meningitis are getting discharged into the sea.
"We would like to see Southern Water having back-up pumps in place so when there is a blockage there is a spare pump to take the load rather than discharge sewage out to sea."