Disabled French cyclists ride to Paralympics from Newhaven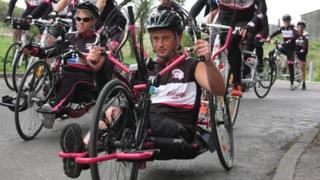 A group of disabled French cyclists have set off from Sussex as part of a ride to the Olympic stadium.
The nine cyclists and nine buddies, together with nine organisers, set off from Newhaven to the Paralympic games.
The group arrived from France on Sunday and cycled to Crawley where they spent Monday night before setting off for the Olympic park at 09:30 BST.
The cyclists have been training for two years for the 400-mile trip which began at Pont Audemer in Normandy.
Seaford based Paralympian, Kristina Veasey joined the group as it left Newhaven.
She said: "What they are endeavouring to do is a real show of the Paralympic spirit we all talk about. From France to London, quite a challenge.
"I hope they enjoy the Paralympic Games as much as they enjoyed their journey to get there."
The group will spend four days at the Paralympics before returning to France.
Jean Jacques Bachelot, one of the French cyclists, said: "We feel that given our physical fitness and most importantly the warm and friendly welcome from our English friends, our last two days of cycling are within our reach."