Hawks scare off seagulls dive-bombing mourners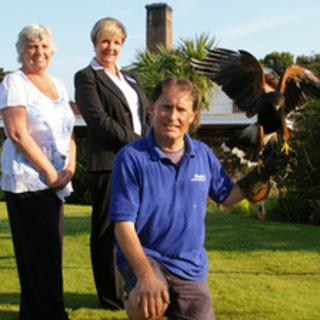 Hawks are being used to scare off seagulls at an East Sussex crematorium after mourners complained of being dive-bombed as they left the chapel.
Staff at Eastbourne crematorium called in falconers after eight breeding pairs nested there and became aggressive.
Cleankill Environmental Services deploy the hawks before funerals start to fly at the gulls and scatter them, but without harming them.
It aims to reduce the population over time by also removing nests and eggs.
Margaret Bannister, a councillor at Eastbourne Borough Council, said: "It was felt that we had to call in bird control experts as the last thing crematorium visitors want is to have to worry about being attacked by seagulls.
"The hawk solution has proved very effective, with the benefit that it does not harm the gulls."
Seagulls usually nest between March and September and become particularly aggressive during this time.