Girl, 13, raped in Hailsham alleyway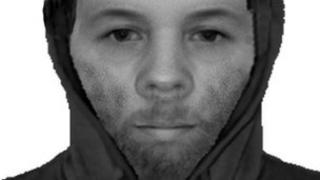 A 13-year-old girl has been raped on a footpath in Hailsham, East Sussex, police have announced.
Detectives say a man in his mid 20s called out her name before the attack on Black Path alley leading to Chapel Barn Close, but did not know her.
The girl reported the rape on 26 August - eight days after it happened at around 21:30 BST on 18 August.
Insp Tony Wakefield from Sussex Police appealed for any information and said incidents of this type were rare.
"I would like to reassure the public that we are doing all we can to support this investigation," he said.
"It would appear that the man knew the girl's name although she does not know him. I would encourage anyone who is concerned or has information to speak to officers."
The rapist is described as white, aged 25 to 30, with brown or ginger hair, a thick beard and wearing grey track suit bottoms and a grey hoodie.