Worthing sewage alert water declared safe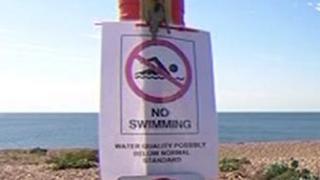 An eight-mile stretch of the English Channel off West Sussex has been declared safe for swimmers after raw sewage had to be pumped out to sea.
Samples taken between Ferring and Shoreham by the Environment Agency passed water quality tests.
Southern Water said filtered sewage was first discharged through the storm overflow just over half a mile (1km) out to sea late last Saturday.
It followed a blockage in pumps at its East Worthing works.
There were no further discharges of untreated sewage after Monday.
"We are grateful to the public for their cooperation during this operation and we wish everyone a great weekend in the sunshine," said Paul Yallop, leader of Worthing Borough Council.