Brighton council plans urgent Saltdean Lido repairs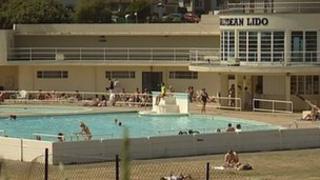 Urgent repairs need to be carried out on Saltdean Lido, a report has said.
The authority recently took back the lido from a commercial operator but has said so much work is needed it is hard to predict when the pool might reopen.
A report to be considered by councillors has said that the 1930s building may not reopen in time for next summer.
Campaigners have fought a long-running campaign for the Grade II*-listed swimming pool to be restored.
Lido operators sought
Councillor Geoffrey Bowden, economic development and culture committee chairman, said: "We have inherited a building in a worse state than we or anyone else anticipated.
"Like so many residents both locally and across the city we dearly want the lido returned to a good condition and opened to the public.
"The debate is about how that happens, not whether it should happen."
The council is also looking at three options for the future running of the lido.
The options are to use a commercial operator, find a not-for-profit external operation, or keep it as a council operation.
Meetings will be held with potential operators including the Save Saltdean Lido Campaign which has fought to safeguard the future of the pool, the council said.
The urgent work to be carried out includes investigating the state of the pool and building, checking fire risks and electrical work, removing asbestos, upgrading the water supply and heating, and paying for insurance, and would be paid for with council funds of £130,000.