Geoffroy's bat discovered in UK for first time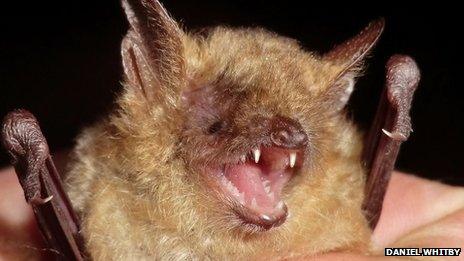 A bat usually found in continental Europe has been discovered in the UK for the first time, according to the National Trust.
A male Geoffroy's bat (Myotis emarginatus) was found by an ecologist carrying out a survey on trust land in the South Downs in West Sussex.
The species, which weighs between six and nine grams, is usually found on the edge of woodland scrub and grassland.
The trust think the bat may have started to extend its habitat range.
Consultant ecologist and bat expert Daniel Whitby said the find also showed the importance of the trust's surveying and monitoring work.
"It was a real surprise to catch this bat," he added.
"Geoffroy's bat is nicknamed the notch-eared bat because it has a distinctive notch in the top part of its ear, with this, along with other identification features; I quickly realized what an interesting bat I was holding.
"It may be that this individual is part of a colony or it may be another example of a new species moving in from the continent."
There are 17 known species of bat breeding in the UK which make up a third of native British mammals, according to Mr Whitby.
"This is the second new species recorded in the UK in the past few years after Alcathoe's bat was also discovered in Sussex and through research we are slowly learning about the habitats of these fascinating but misunderstood creatures," he said.
National Trust conservation adviser Crispin Scott said: "We don't know whether it's part of a colony.
"It is more likely to be one that has travelled a long distance. It maybe moving its range slightly northwards.
"Some of these bats are now being identified because the science, surveying and trapping techniques we have are better.
"The species could be 'new' or they could have been here for a while."
Related Internet Links
The BBC is not responsible for the content of external sites.