Save The DGH campaigners march in Eastbourne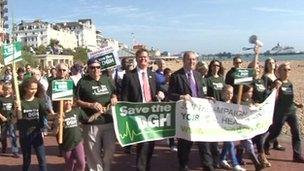 Thousands of protesters have marched on Eastbourne seafront to fight plans to cut hospital services in East Sussex.
They want proposals to consolidate core services at specialist centres in either Hastings or Eastbourne ditched.
The NHS trust aims to centralise trauma, orthopaedics, stroke and general surgery, but campaigners want services retained in both towns.
The services are currently run at both Eastbourne District General Hospital (DGH) and Hastings' Conquest Hospital.
Save the DGH campaign chairwoman Liz Walke said people would face terrible journeys on congested roads between Eastbourne and Hastings if core services were centralised.
She said they could be retained in both towns if they were delivered by consultants without middle grade doctors.
"We believe core services are not negotiable. When it's an emergency you need to arrive at the place to be treated very quickly - time matters," she said.
"The Fast (face, arms, speech, time) campaign for strokes says minutes matter. Why add on another 45 minutes to an hour-and-a-half to get to the place where you need to be? it's crazy.
"If these services go, it is inevitable that others, such as maternity and paediatrics, will soon follow."
The march comes four years since the same campaigners successfully defeated plans to downgrade maternity services in Eastbourne.
That followed a march in 2006 which saw 5,000 protesters take to the streets of Eastbourne to fight plans to move consultant-led births to Hastings, leaving only midwives in Eastbourne.
The government threw out the proposal in a judicial review in 2008.
East Sussex Healthcare NHS Trust says the current proposals are more about driving up quality of care than cost cutting, and the plans were made in conjunction with a host of local clinical experts.
It also denies the services currently under threat are the first in a long line earmarked for centralisation.
In July, more than 200 protesters campaigned outside Eastbourne's Congress Theatre where the public were invited to discuss the proposal.
Related Internet Links
The BBC is not responsible for the content of external sites.