Chitty Chitty Bang Bang replica car fetches £15,000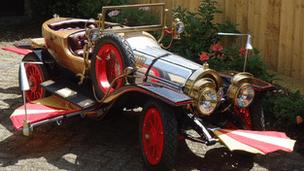 A model of a Chitty Chitty Bang Bang car for children has sold for £15,000 at an auction in West Sussex.
The magical flying car, made famous by the 1968 musical film, has fold-out wings with working helicopter blades and a top speed of 8mph.
Auction house Bonhams said it was made by a model maker specialising in replicas who used moveable seats "so dad can have a go if he wants".
It was sold at the Goodwood Revival festival in Chichester on Saturday.
The 7ft (2m) model has an electric engine and features leather seats, coach-style working headlights, pneumatic tyres and a glass windscreen.
The 1968 film was based on Ian Fleming's novel Chitty-Chitty-Bang-Bang: The Magical Car.
Related Internet Links
The BBC is not responsible for the content of external sites.