Ferring woman taken to hospital after beach sewage alert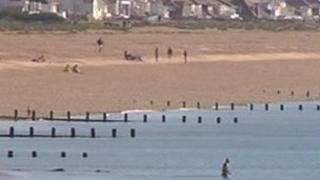 A woman who got a skin infection after going in the sea in West Sussex thinks a sewage discharge may be to blame.
Lara Sparks, from Ferring, was admitted to hospital and treated for cellulitis, which is caused by bacteria, following the discharge at East Worthing.
"I went for this paddle and 12 hours later I started feeling ill," she said.
Southern Water said although the seawater passed quality tests after the discharge alerts against swimming were still place when she went in the water.
Warning signs were put up after pumps at Southern Water's East Worthing wastewater treatment works became blocked on 1 September, resulting in raw sewage entering the sea.
Son swam
The discharged stretched eight miles along the English Channel coast, east of Ferring, and swimmers were not given the all-clear on 7 September.
However Ms Sparks, who insists she saw no signs, went to Ferring beach after school on 6 September with her son, who swam in the water while she paddled.
"I remember looking up the beach and thinking, 'Gosh it's a lovely day and there's hardly anyone in the sea'," she said.
"I thought it was quite strange but didn't think anything more about it."
She later suffered flu-like symptoms, before her foot swelled up and she was admitted to hospital after attending A&E and treated with antibiotics.
She said on the "balance of probabilities" she believed the sewage was to blame.
"I had no idea the sea was off limits," she said. "It seems strange that there weren't really big signs up."
Beaches 'not sterile'
Cellulitis is most commonly caused by group A streptococcus or staphylococcus aureus bacteria.
Southern Water said it was carrying out an investigation into the incident, working with the Environment Agency and Worthing Borough Council.
"At the earliest opportunity, Adur and Worthing councils, as beach manager, raised the red 'no swimming' flag and put up more than 250 notices over 10 miles of beaches," it said in a statement.
"An extensive project is in place for the East Worthing works and by the summer of 2014 this will have improved many aspects of the site including alleviating the risk of pollution and flooding."
It said the UK Health Protection Agency stresses beaches are not sterile areas, and there is always a "small chance" people will become ill.