Michael Polding Brighton flat murder suspect released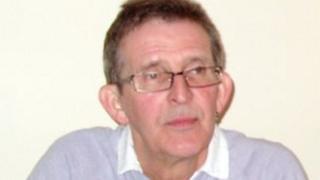 A 28-year-old man arrested on suspicion of murdering a man who lay dead in his Brighton flat for at least two months has been stood down from bail.
The London man who was held over the murder of Michael Polding, 63, has been told no further action will be taken against him, Sussex Police said.
Family members contacted police when Mr Polding failed to get in touch. His body was found on 16 July.
The case will feature on the BBC's Crimewatch programme next week.
Detectives launched a murder investigation this summer after a post-mortem examination of Mr Polding's body revealed injuries that concerned officers. Police believe he was killed in May.
Sussex Police said Mr Polding, who was originally from Scotland, moved to St George's Road in the Kemp Town area of Brighton from Croydon, south London, last year.