St Leonards' padlock and timber sculpture unveiled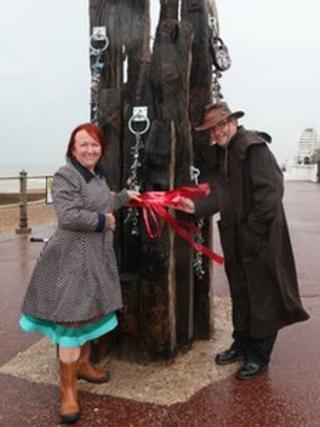 A sculpture made from reclaimed groyne timbers and padlocks has been installed in a Sussex seaside town.
Unveiled in St Leonards on the promenade opposite Warrior Square, the artwork is titled My Heart Belongs to Hastings.
Visitors are encouraged to decorate their own padlocks and lock them onto the artwork.
The sculpture was funded by Arts Council England and Hastings Borough Council.
'Throw away key'
Peter Chowney, from the council, said: "The artwork is intended to become a destination for people to leave a lasting and very personal souvenir of their time in Hastings and St Leonards.
"People are invited to decorate padlocks, dedicate them to those who they love or have loved, lock them onto the artwork and throw away the key.
"It will then grow as thousands of padlocks are attached to the sculpture's mooring rings by local people and visitors."
The artwork was created by Strange Cargo and commissioned for the 2012 Coastal Currents festival.