Sussex Police Chief Martin Richards 'no case to answer'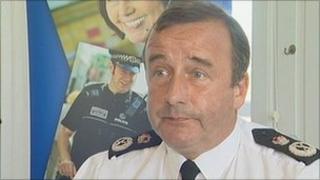 An investigation into an an allegation of misconduct against Sussex Police Chief Constable Martin Richards has found he has no case to answer.
The Independent Police Complaints Commission (IPCC) launched its investigation on 15 June following a referral by Sussex Police Authority.
An anonymous allegation was made that Mr Richards used undue influence over an operational policing issue.
The police authority said it endorsed the IPCC's conclusions.
The IPCC said the allegation remained uncorroborated despite independent investigators seeking to encourage the source to make contact with the IPCC.
'Still active'
A spokeswoman said no more information would be disclosed at the moment because it involved an ongoing operational matter.
"Proceedings are still active and so we are unable to shed any more light on the allegation," she said.
She added that more information may be released when the matter was concluded.
Mr Richards has been Chief Constable of Sussex Police since 2007.
"The Chief Constable has welcomed the independent scrutiny of the IPCC in investigating this allegation from the outset and has provided his full support to the investigation throughout," the force said in a statement.