Hastings to Bexhill link road: Protesters' legal bid fails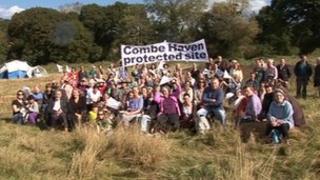 Campaigners against a planned £93.8m link road between two East Sussex seaside towns have failed in their bid for a judicial review.
Opponents of the 3.4-mile Hastings to Bexhill link road, who mounted the High Court bid, claim it will destroy the unspoilt Combe Haven Valley.
The government announced in its March budget that it would contribute £56m towards the cost of the road.
East Sussex County Council (ESCC) said it was delighted by the decision.
The Hastings Alliance campaign group applied for a judicial review of the government's decision to contribute £56m towards the road-building project, which has been under discussion for more than 20 years.
It claimed it was a "risky and speculative" development which was not a good use of scarce public funds.
'Needless blot'
Following the High Court ruling, chairman Nick Bingham said: "We remain convinced that this costly, unsustainable and damaging scheme is not the answer to the problems in Bexhill and Hastings.
"This road scheme will be a needless blot on the landscape of a beautiful county.
"The West Coast Main Line story reminds us government doesn't necessarily make good financial decisions on transport."
Opponents claim that building a road so close to a site of special scientific interest will damage ancient woodland housing protected species including dormice and bitterns.
Supporters of the road include ESCC, which will pay more than £35m of the total cost.
Council leader Peter Jones said it would enable the building of up to 2,000 homes, business park space and create more than 3,000 jobs.
It is also claimed the road will ease congestion and improve air quality on the A259 at Glyne Gap.
Mr Jones said the council was delighted the High Court had recognised there was no basis for the legal challenge.
"It means we can now get on and really make a positive difference to the most deprived local economy in the South East," he said.
"This road is absolutely crucial to the regeneration of Hastings and Bexhill, for people and businesses.
"It'll bring better access to jobs, opportunities for housing and business development, and fewer cars using roads that aren't suitable for them."
The government approved Compulsory Purchase Orders for the land last month. Building is due to start in January.