Plamen Petkov inquest: Rescuer 'extraordinarily brave'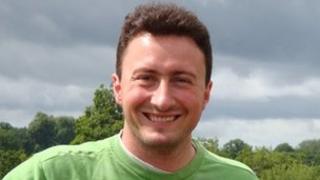 A man who drowned saving a five-year-old girl has been described as "extraordinarily brave" by a coroner, who has found he died accidentally.
Plamen Petkov dived in the sea at West Wittering in West Sussex after seeing a woman shouting for help because her daughter was adrift on a rubber ring.
Mr Petkov, 32, a Bulgarian-born UK citizen, reached the girl and passed her to a woman who took her to shore.
But he got caught in strong currents and drowned, the inquest was told.
Mr Petkov, from Sutton, south-west London, ran into the water after hearing Darleen Myint's mother shout "my baby, by baby" as her daughter was carried out to sea by the wind and currents on 26 May.
'Head underwater'
His friend Stefan Mayorov told the inquest at Chichester Magistrates' Court that after saving the girl, Mr Petkov got into trouble.
"His head was under the water and there was no reaction," Mr Mayorov said.
Mr Petkov was recovered unconscious from the water and pronounced dead by the emergency services shortly afterwards.
The girl's mother, San Thidar Myint, told the inquest: "She was just out of my reach and she started drifting further away.
"I could not reach her and the water was getting deeper and deeper and it was up to my neck.
"I was panicking and I called for help."
She told the hearing: "I did not have a chance to say thank you to him.
"He was a brave and honourable man. He didn't think twice when I asked for help."
West Sussex assistant deputy coroner Joe Turner said Mr Petkov's actions were "extraordinarily brave".
Mr Petkov was posthumously awarded the highest civilian Bulgarian distinction for his "self-sacrifice and courage".