Lewes vandals use fireworks to blow up parking meters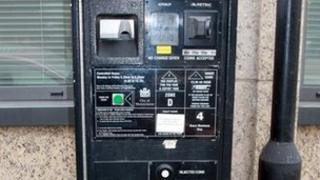 Vandals in a market town in East Sussex have blown up parking meters for the eighth consecutive year.
Fireworks were set off in the coin slots of two pay-and-display machines in Lewes on Thursday night, causing damage totalling £2,900, police said.
Vandals carried out 15 attacks on 14 parking meters in the town last year between September and November, causing more than £20,000 of damage.
Similar incidents have been reported in the town each year since 2004.
Officers said they would be stepping up patrols amid fears that someone could be maimed following the latest incidents in Phoenix Place and Friars Walk.
'Costly vandalism'
A £1,250 reward for information leading to an arrest and conviction of those responsible for the attacks has been offered by East Sussex County Council, Sussex Police and Lewes District Council.
Ch Insp Jason Tingley, the Lewes district commander, said: "I find it difficult to understand why anyone would be so reckless as to carry out such potentially dangerous acts.
"I'm amazed that someone hasn't been injured. This amounts to a serious spree of costly vandalism."
The attacks in Lewes - famous for its large annual fireworks display - started eight years ago after the local council introduced on-street parking charges following complaints of congestion in the town's narrow streets.