West Sussex council in short-term A27 congestion plan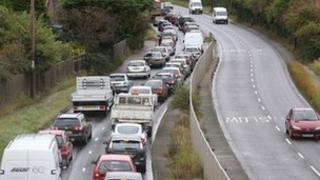 Short-term measures to tackle congestion on the A27 are to be explored while West Sussex County Council lobbies for major improvements.
The council has agreed to look at short-term improvements but said it would still lobby the Department for Transport (DfT) for long-term work.
It said there was no immediate prospect of early government intervention, and it was considering leading the way.
Roads minister Stephen Hammond said he was determined to tackle congestion.
Councillor Pieter Montyn, cabinet member for highways and transport, said: "While major improvements to the A27 will always be our ultimate aim, our economic well-being and other concerns cannot wait.
"The constraints are too serious and will get worse."
The short-term measures being explored include improvements to junctions, signalling and roundabouts in Chichester, Arundel, Worthing and Lancing.
Bypasses needed
Council leader Louise Goldsmith said: "We have to recognise that the type of A27 improvements we want to see are still many years away, possibly decades.
"It is because there is no immediate prospect of early government intervention, that we are considering leading the way with a short-term strategy to support local economic growth, and help bring forward planned development close to the A27 designed to meet local needs and maintain and create jobs."
She said congestion and unreliable journey times on the A27 had been causing problems for businesses and residents "for far too long".
The council believed it could develop a short-term strategy deliverable over five years that would go some way to improving journey times, she added.
Ms Goldsmith said: "The work will not prejudice the major improvements we want to see delivered, and we will continue maintaining pressure on the Department for Transport."
Council applauded
The council said it would need to look at how the work could be financed.
It has said building bypasses along the route remained the council's firm, long-term aspiration.
Mr Hammond said the DfT had made a series of commitments to improving the A27, including the Ford roundabout near Arundel.
Longer term it also had plans for an £85m upgrade to the Chichester bypass.
"However, we also recognise that those who know the area best have an important part to play and I applaud the council for taking a pro-active approach in looking how to improve this vital road," said Mr Hammond.