Drivers caught misusing Crawley level crossings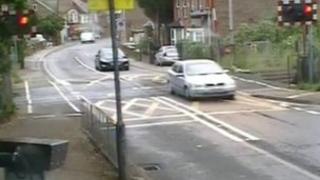 Emergency services have been out raising safety awareness at two level crossings in Crawley with among the worst records of misuse in Sussex.
Officers from West Sussex Fire and Rescue Service, Sussex Police and Network Rail spent the day at the Horsham Road and High Street crossings.
Network Rail said that since 2008 there had been more than 100 recorded incidents of misuse at the crossings.
On Wednesday 12 drivers were caught on camera ignoring red traffic signals.
British Transport Police said they would be prosecuted.
The firefighters and safety offices spoke to motorists and pedestrians about using the crossings correctly and gave out postcards with safety messages.
'Taking a risk'
"We have been standing here and we have witnessed four pedestrians going through on a red light and two cars at the High Street end," said Network Rail safety manager Nicola Dorris.
"Down at this end [Horsham Road] we have seen about three cars go through on a red light.
"Even with the visibility we have we have still got people going through and taking a risk on a red light.
"That is how much of a problem it is."
Two fatal accidents also took place at the Crawley crossings, in 2009 and 2010.
"Some of the worst incidents we go to involve rail and for us it is body recovery at best and bits of bodies at worst," said Richard Davy, of West Sussex Fire and Rescue Service.
"The message from us that the barriers are there for a reason. They are there to keep you safe."