Brighton's Kings Road seafront arches to be rebuilt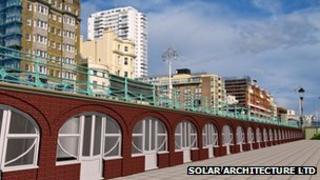 Seafront arches built during the reign of Queen Victoria are being rebuilt in Brighton in a construction scheme that will take nearly a year.
Work on the Kings Road Arches is due to get under way on Monday.
Brighton council said the majority of the arches were not in use, and those that were in use were used for storage.
The local authority said that the historic arches would be rebuilt, strengthened and refurbished during the 50-week scheme.
The arches support the promenade between Alfresco's restaurant and the new i360 viewing tower development.
During the works, the upper promenade will be closed, but businesses on the lower promenade and seafront will remain open throughout the works, the council said.
Council leader Jason Kitcat said the essential work followed a recent structural survey and the scheme was part of the council's commitment to improve the seafront.