Four treated after Hastings tool hire shop fire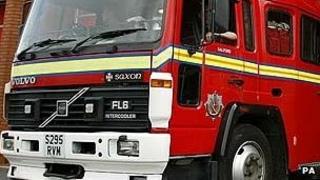 Four people required medical treatment after a fire broke out at a tool and equipment hire shop in East Sussex.
The fire broke out at about 10:45 GMT at the Hastings Hire Centre in Menzies Road, St Leonards, East Sussex Fire and Rescue Service (ESFRS) said.
Crews from eight stations put the fire out three hours later.
One person was treated at hospital and one person was treated at the scene, both for smoke inhalation. Two others were checked by medical staff.
An ESFRS spokeswoman said there were oxygen and acetylene cylinders at the premises, but they were not involved in the fire.
The fire service said the cause of the fire in the four-storey building was unknown and an investigation had begun.