Brighton Green councillor's gay-vote expulsion upheld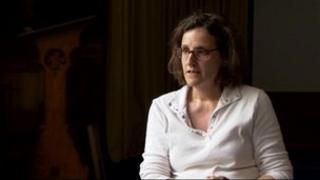 A Christian councillor who was expelled from Brighton's Green group after she defied party policy on gay marriage is continuing her fight against the move.
Christina Summers was kicked out by local party officials after voting against a motion on government plans to allow gay couples to marry.
National party officials have now upheld the expulsion, which does not affect her membership of the party.
Ms Summers, now an Independent, has always insisted the decision was wrong.
An inquiry panel recommended her expulsion after concluding she was in breach of a written undertaking that if she was elected to public office she would uphold the party's values of equality.
Brighton branch chairman Rob Shepherd said the breach was one of "a whole range of incidents" the inquiry found when it investigated.
Ms Summers had said during a council debate in July: "When you touch marriage, you're touching family and you're hitting at the very heart of God and I have an enormous problem with that."
She said that by disciplining her, the Green Party was discriminating against Christians - an allegation the party denies.
'This isn't over'
Ms Summers lodged an appeal, but a panel of independent senior party officials has upheld the Brighton group's decision.
A Green Party spokesman said: "This appeal panel has upheld none of her points of appeal and has therefore dismissed the appeal itself."
The party said its decision represented "the end of the appeals process", but Ms Summers told BBC News she was consulting lawyers about further action, saying: "I'm sure you appreciate that this isn't over."
She added in a statement through the Christian Legal Centre: "I am terribly disappointed at the appeal panel's decision, not just for myself but for others who share my views on marriage and on free speech."
Mr Shepherd welcomed the party's decision to uphold the local inquiry panel's action, adding: "We wish to reiterate that the Green group of councillors made Councillor Summers an Independent councillor not because of her views on same-sex marriage but because of a whole series of incidents...
"We respect everyone's right to religious freedom of expression, but that was not the matter under consideration."