East Sussex shared hospital services plan approved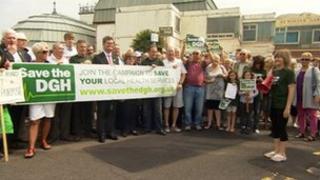 Plans to divide emergency orthopaedics, surgery and stroke services between two hospital sites in Sussex have been approved by NHS chiefs.
NHS Sussex approved the plans set out by East Sussex NHS Trust on Friday.
Under the plans, stroke services will be based at Eastbourne and emergency orthopaedics and emergency general surgery at Hastings.
The hospital trust said the move would improve services. Campaigners opposing the scheme later staged a meeting.
Dr Andrew Foulkes, medical director of NHS Sussex, said the decision would improve results for patients, access to expert clinicians, and recovery rates.
NHS Sussex chief executive Amanda Fadero said: "I firmly believe that this decision will lead to improvements in care and is the right foundation for ensuring safe and sustainable services for the future while maintaining two thriving major hospital sites."
Protest meeting
East Sussex Healthcare NHS has previously said the plans would "significantly improve" the quality of care received by patients.
The NHS trust also said the recommendations would affect under 1% of people who used the hospitals each year and said fewer than 15 patients a day would need to travel further.
But Liz Walke, from Eastbourne's Save the DGH campaign, who was at the meeting, said: "Twenty miles - if you've been on these roads - it can take an hour and a half to get between the two hospitals, in an ambulance, it's not a dual carriageway.
"You try and get past, you'll see ambulances clogged up.
"The roads are notoriously congested, and that's why we're here."
Ms Walke urged campaigners to attend a campaign meeting on Friday evening at Eastbourne Town Hall.
The campaigners' website said they were launching a new petition in an attempt to get the decision referred to the health secretary with the aim of reversing it.