Seven cars destroyed in Hove fire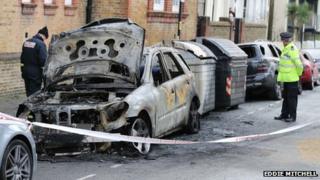 Police and fire investigators are trying to establish the cause of "a chain of events" that left seven cars and a wheelie bin burnt out in Hove.
East Sussex Fire and Rescue Service believes the blaze, in Connaught Road, was started deliberately.
Police and fire services were called to a burning bin, but also found a line of cars on fire.
Sussex Police believes fuel leaking from a burning Mercedes ignited and may have created a burning domino effect.
They said no-one was hurt, but seven cars - including two Mercedes, an Audi and a BMW - were badly damaged.
One firefighter described the fires as "a whole chain of events".