Brighton A&E Twitter feed 'to educate public'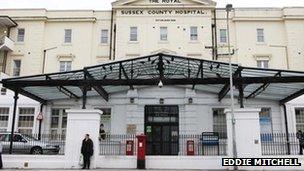 Staff in a Brighton A&E unit are tweeting about events in the hospital emergency department as they happen.
The two-day "tweet-a-thon" at the Royal Sussex County Hospital is to educate people about unnecessary A&E visits.
A hospital spokesman said the Twitter feed would report real emergencies and also non-emergencies.
Staff said a man arrived with a slight fever, which was not an emergency, but a woman had arrived with a collapsed lung which was clearly a case for A&E.
The woman had arrived by land ambulance because she was too unstable to be flown, and was being treated "in resus", the Twitter feed said.
It urged people considering going to A&E to check their symptoms at NHS Direct.
Brighton and Sussex University Hospitals NHS Trust, which runs the A&E, said the number of people attending unnecessarily had risen significantly in recent years.
It said one in four people being seen in the department could have been self-treated or been seen elsewhere by another health service.
Associated director of operations and medicine Terece Walters said that put emergency staff under more pressure which could lead to delays in treatment for other patients.
The trust said A&E should only be used for serious injuries or critical situations, while minor injuries or mild illnesses could be dealt with by NHS Direct, local pharmacies, GP surgeries, and the walk-in Brighton Station Health Centre.
Related Internet Links
The BBC is not responsible for the content of external sites.