West Sussex River Arun flood defence plans set out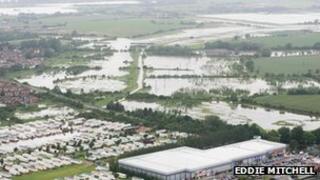 Plans to manage the flood risk along a tidal river in West Sussex include strengthening some defences, but stopping maintenance on others.
The Environment Agency is consulting on plans to manage the risk of flooding from the River Arun.
The agency said 76 properties were at risk, but this could rise to more than 800 over 100 years if nothing was done.
Exhibitions will be held at Pulborough Village Hall on 12 January and at Arundel Town Hall on 5 February.
Recommendations include withdrawing maintenance of defences at Pulborough, from Pallingham Weir to Pulborough, and from Houghton Bridge to Arundel.
Defences from Pulborough to Houghton Bridge would be strengthened and raised, along with defences at Arundel.
Maintenance work to keep existing defences in good condition would continue from Arundel to Littlehampton and at Black Ditch.
Andrew Gilham, flood and coastal risk manager, said: "We have worked closely with the local community during the development of our draft recommendations."
He said the agency now wanted to hear the views of people with an interest in the future of the Arun valley.
Consultation documents can be viewed on the Environment Agency website.