Woman injured in Hastings festive paddle dies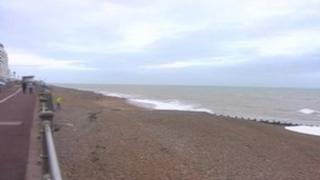 A woman has died after suffering head injuries when she was swept into a groyne off the coast of Sussex during a Christmas Day paddle.
Coastguards said she was knocked off her feet by a wave and carried into a metal barrier at Hastings beach at about 10:35 GMT.
Two lifeboats were launched and crews pulled the unconscious woman from the water.
The woman had been with a small group of swimmers.
'Unsuitable weather'
A Dover Coastguard spokesman said: "She collided with a groyne, suffered head injuries and was face-down in the water for some time.
"Three people went into the water in an attempt to rescue the lady but couldn't manage it. They did manage to get out of the water themselves.
"The lady was taken off to hospital for treatment. She was in a poor state of health.
"The winds were gusting around 50 knots. It was not suitable for swimming or small craft."
A spokesman for Sussex Police said: "At 10:40 an adult female was paddling in the sea at Hastings when it appears she was hit by a wave and taken a short distance out to sea.
"A lady was recovered and given emergency CPR before being taken to the local hospital.
"Sadly she has now died as a result of that incident."