West Sussex motorists warned of potholes after heavy rain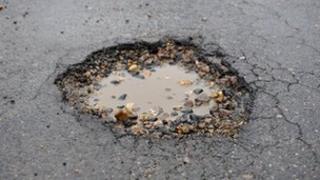 Motorists are being urged to take extra care and to drive slowly on water-covered roads in West Sussex because of the threat posed by potholes.
Council officials said surface water from heavy rain had taken its toll on the roads, with a rise in the number and size of potholes being reported.
West Sussex County Council said surface water had also "exacerbated the problem with existing potholes".
A council contractor has been assessing and repairing them.
A spokesman said an improvement in the weather was forecast for the start of the year, reducing the risk of further flooding.
Members of the public are urged to contact the council if they spot any potholes, which are caused when wet or freezing conditions cause the surface of the road to be eroded.