Tony Greig and Christopher Martin-Jenkins books of condolence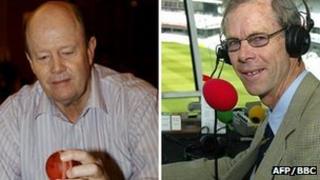 Books of condolence for two men from the cricketing world have been opened at Sussex County Cricket Club.
Ex-England captain, Tony Greig, who played for Sussex between 1967 and 1978, died aged 66 on 29 December after a heart attack.
Christopher Martin-Jenkins, the Test Match Special commentator and writer, died of cancer on 1 January aged 67.
A keen Sussex supporter, Martin-Jenkins' son, Robin played for the county until retiring in 2010.
Sussex chairman, Jim May, said: "Everyone connected with Sussex cricket is deeply saddened by the untimely loss of these two cricketing giants.
"We are opening two books of condolence at the county ground to enable our members and supporters to pay tribute to these two great men of Sussex cricket."
The books will be open between 09:00 and 17:00 GMT, Monday to Friday, until the end of January.