Sussex PCC Katy Bourne criticised over special constables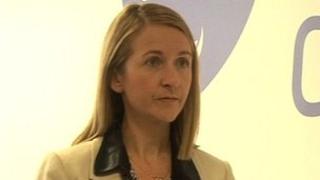 The Sussex police and crime commissioner has been criticised for failing to come up with a plan to put a special constable in every village.
The promise was a key pledge in Katy Bourne's election manifesto, but a draft plan for 2013/2014 does not say how it will be achieved.
Lib Dem councillor Andrew Smith said the plan suffered from lack of detail.
But Tory Ms Bourne said she planned to increase the number of specials over her full term of office.
Ms Bourne, who was elected in November, put her first police and crime plan before local councillors on Friday.
"It is a very aspirational document but I can't see any measurable outcome," said Mr Smith.
"It was a clear manifesto pledge by the commissioner to increase the number of specials from our current number of 356 to 500 but there is no reference to that in the plan."
Ms Bourne told the police & crime panel, set up to oversee her decisions, that she did not give a figure for the number of special constables who would be recruited in her manifesto.
Later, she said: "It depends on how you define a village.
"For want of argument I would say there are approximately 440 in Sussex.
"We have about 300 specials at the moment, so we are looking at increasing the number of specials over my three-and-a-half year term of office."
She added that the draft plan proposed no increase in the amount paid towards the police in council tax, which would remain at £138.42 for a Band D property.
"This will be frozen for another year but I can guarantee it will not affect policing," she said.