Crawley fundraising teen Charlie Doherty visits Malawi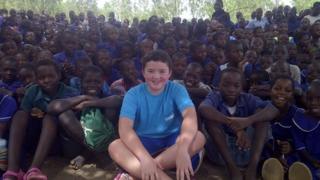 A 13-year-old boy who has donated all of his birthday money to charity since he was six has visited a school he helps to support in Malawi.
Charlie Doherty, from Crawley, Sussex, has also raised thousands of pounds by taking part in sponsored bike rides and hikes.
He donated the money to charity Mary's Meals, which runs school feeding projects.
The teenager spent his 13th birthday at Ipyana Primary School on Monday.
Speaking to pupils at the school, he told them his dream of visiting Malawi had been realised.
He has raised £20,000 since deciding money should be donated to charity instead of receiving birthday presents.