Brighton and Hove city centre to become 20mph zone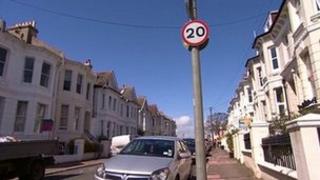 Most of Brighton and Hove city centre is to be made a 20mph zone after plans were approved by councillors.
The move applies to the majority of shopping and residential streets in the area, which covers a two and half square mile block of the city.
The Green Party-led council said most major roads and routes taking traffic out of the city would not be included and would still have 30mph limits.
Councillors agreed to go ahead with the first phase of the project on Thursday.
'Further zones'
Members also agreed the impact of the reduced speed limit would be closely monitored and kept under review.
Council leader Jason Kitcat said: "People are more likely to walk and cycle at slower traffic speeds and we also know that people are more likely to survive a collision if the car is going slower."
And Rod King, from the 20's Plenty campaign group, said: "A place which looks safer, which feels better for pedestrians and cyclists and motorists, is going to be a better place to be. Why go faster than you need to?"
But Jon Smith, a taxi driver and a GMB union representative, said: "Taxi drivers in general will be disadvantaged in the length of time it's going to take them to complete the jobs and get back into the city centre to take the next fare.
"Obviously this will have a major impact on safety in the city centre because the police want the ranks cleared very quickly when people leave the clubs."
Further 20mph zones could be introduced in other parts of the city as part of a phased introduction over the next four years but those decisions are not being taken at this stage, the council said.
The local authority has allocated £0.5m to the project for each of the next three years, with the overall project cost expected to be about £1.5m.
In November, results of public consultation were put before the transport committee showing 55% of the 3,689 people who took part supported the plan.
Traffic orders which were then formally advertised have now been approved.