Saltdean Lido boosted by Brighton Council lease decision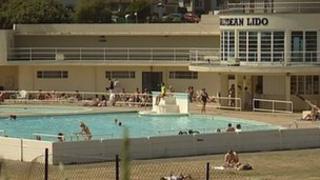 Brighton's dilapidated Saltdean Lido is to be offered on a long-term lease in a bid to attract sufficient investment to safeguard its future.
But Brighton City Council has confirmed the once-popular attraction is unlikely to reopen in time for the summer.
The council bought the deteriorating 1930s complex back from its operator last June amid concern over its future.
Now it hopes to grant a 50-year lease to encourage organisations to invest the cash to create a top attraction.
Councillors will discuss the future of the grade II star listed building, which it purchased for an undisclosed sum, later this month.
A spokesman said: "A long lease is the most likely way of attracting the required private-sector investment - and the best chance of securing lottery funding."
Major repair bill
The council says it has already begun talks with interested parties, including existing lido operators, and will offer the lease to commercial companies, community associations or other not-for-profit organisations.
But the likely bill for repairs - described by the council as requiring major capital investment - could prove a stumbling block, and the council admits there is "little chance" of it reopening by the summer.
Council leader Jason Kitcat said: "All along we have shared the desire of residents to restore the building and have it operating as a first-class attraction.
"Having spoken to community groups and experts, we have concluded a long lease is the best way of generating investment and securing lottery money.
"Our aim is to make it a wonderful place to spend time once again, but we will have to be patient a little longer because there is a great deal of work to do."
Rebecca Crook, director of Saltdean Lido Community Interest Company, which has been pressing for action at the lido and wants to run it, welcomed the council's move.
She said: "Our new company, which has been set up by local residents, would operate the lido for the benefit of the community ploughing profits back into the site. We have the backing of local people and are looking forward to formally submitting our bid."