Sussex schools shut and travellers hit by snow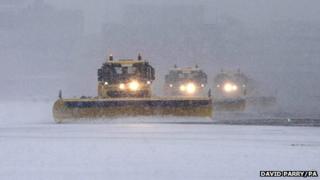 Air passengers, motorists and rail travellers have been warned of disruption while 275 Sussex schools have been closed because of the snow.
Gatwick Airport in West Sussex said snow began falling soon after 09:00 GMT on Friday and there had been some delays to flights.
Sussex Police said there were hazardous conditions on the A27 Chichester by-pass because of the weather.
It said travellers should allow extra time for their journeys to the airport.
In a statement, Gatwick Airport said: "It's snowing and although our runway is open and we're operating well, there is some disruption to flights.
"We advise you to check with your airline for the status of your flight and to allow extra time for your journey to the airport today."
Southern Rail is running an amended timetable and fewer services.
South East Coast Ambulance said on Twitter: "Snow getting heavier, especially in Sussex and Surrey. We're getting busier and are taking longer to get to some patients than we would like."
Match postponed
At least 129 schools have closed or are planning to shut early in West Sussex, 112 have been affected by the weather in East Sussex and 34 in Brighton and Hove.
Parents were urged to check local authority websites for the latest information on school closures.
At Blatchington Mill School, in Hove, head teacher Janet Felkin said food that had been prepared in advance for staff and pupils and not used because of the closure had been donated to a homeless charity in Brighton.
"We delivered the food this morning and suggested the same to all the other schools in Brighton and Hove and lots of them have taken that up," she said.
Meanwhile the League One football match between Crawley Town and Carlisle United at the Broadfield Stadium on Saturday has been postponed because of problems with the pitch.
Chief executive Richard Low said: "An area at the southern end of the pitch is still frozen and not likely to improve between now and kick off time, even though it has been covered since early in the week.
"The referee also took into consideration a very detailed forecast and had a briefing with our safety officer because of his obvious concerns about access to the stadium if, as is forecast, it continues to snow heavily.
"It is disappointing but we had to make an early decision with Carlisle travelling such a long distance."
The Met Office has issued a severe weather warning for South East England for Friday, warning of snow throughout the region - including much of East and West Sussex - and a danger of some drifting.
BBC News reporter Eleanor Williams said about 10cm of snow had fallen in parts of West Sussex with deeper drifts in a number of spots.
She said drivers appeared to be heeding police warnings to avoid unnecessary journeys.
Earlier BBC South East weather presenter Rachel Mackley said: "We've got weather warnings out from the Met Office about the snowfall which are valid all weekend.
"Widely we're expecting five to 10cm of snow with up to 15cm in some areas further to the west.
"Temperatures won't rise above freezing and we've got bitterly cold south easterly winds. Snow flurries are expected Saturday and Sunday."
Major roads gritted
The Highways Agency is warning drivers to be prepared and to set off earlier.
Sussex's two county councils and Brighton & Hove City Council sent out gritters overnight to try to keep main routes passable, but many side roads around the county have been left untreated.
East Sussex County Council said on Twitter: "At the moment we're keeping the primary routes clear as a priority. We're checking the weather to help decide about secondary."
Southern Rail, which serves London from the Sussex and East Hampshire coast, says passengers using the East and West Coastways into the capital are likely to be particularly affected.
The half-hourly services from Eastbourne and Littlehampton, which normally join at Haywards Heath, will instead each run hourly, but will generally comprise more carriages.
First Capital Connect said it hopes to run a normal service.