Gritters out on Sussex roads as more snow is forecast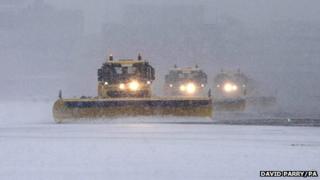 Roads in East Sussex are being gritted, with the primary routes treated again from 05:00 GMT on Sunday morning.
The county council said it was concentrating efforts on the major routes, with main roads being passable with care.
Persistent and heavier snow is forecast to spread from elsewhere in Europe late on Sunday morning and is set to continue during the afternoon.
Gatwick Airport said disruption was minimal due to snow clearance vehicles.
Match postponed
Engineering work between Three Bridges and Haywards Heath is causing disruption on some Southern Rail and First Capital Connect services, with buses replacing trains on some routes on Saturday and Sunday.
The weather led to the postponement of the League One football match between Crawley Town and Carlisle United at the Broadfield Stadium.
BBC weather forecaster Helen Willetts said there will be snow in the south-east and the east of England on Sunday, pushing into north-east England later in the day.
More snow is expected on Sunday night going into Monday in the south-east and eastern side of England, she added.