Sussex snow and ice causes disruption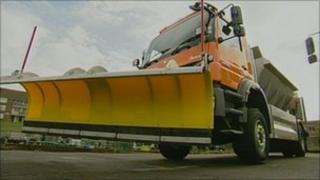 Snow and ice continued to cause disruption across Sussex on Monday, with nearly 200 schools either shut for the day or partially closed.
Gritters were out treating all primary and secondary routes from 03:00 GMT, though side roads remained treacherous.
The conditions led two hospitals in Sussex to urge the public to use A&E units only in an absolute emergency.
Brighton and Sussex University Hospitals trust said the weather had put "additional pressures" on the NHS.
It runs the Royal Sussex County Hospital, in Brighton, and the Princess Royal Hospital, in Haywards Heath, and said at the start of the weekend there were 25 patients booked to have surgery on broken bones this week, but by Monday morning that had doubled to 50.
Chief nurse Sherree Fagge urged people with less urgent or minor illnesses and injuries to consider alternatives to the emergency departments, such as the Brighton Station Health Centre.
However, she added: "We are absolutely not saying to people who need urgent advice or treatment to stay away from A&E.
"We are simply saying our job is to treat and care for seriously ill and injured people and that job is made much harder when demands are also placed on us by people who could have been helped by an alternative, less critical service."
Amended timetable
Earlier, train services on the Southern Rail network were severely disrupted out of Brighton due to over-running engineering works.
Buses replaced trains to London as far as Three Bridges and services from Lewes were also affected.
Southern said it ran an amended timetable on Monday but with alterations and some cancellations because of the weather, and said the same would apply on Tuesday.
Southeastern said it was running a regular timetable, despite having to cancel some early morning services to enable it to use the carriages to make other trains longer, reducing the chance of them failing.
It said that, with snow and sleet forecast for the South East overnight, more delays would be inevitable on Tuesday.
First Capital Connect said on Monday afternoon that services would continue to be disrupted for the rest of the day because of the weather.
Gatwick Airport was operating as normal but warned there would be some delays due to weather conditions across the UK and Europe.
In East Sussex bags of gritting salt have been handed out to the main towns and bigger villages.
The "hippo bags" are for residents to use to clear pavements for themselves.
The salt is in addition to the gritting lorries which have been out on roads overnight.