Sussex rail passengers warned of delays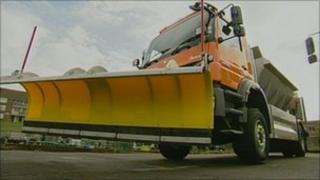 Rail passengers in Sussex were warned there may be delays to services because of icy conditions on Tuesday.
Temperatures dropped overnight, freezing partially melted snow and leading to warnings of ice on untreated surfaces.
The conditions led two hospitals to urge the public to use A&E units only in an absolute emergency.
Brighton and Sussex University Hospitals trust said the weather had put "additional pressures" on the NHS.
It runs the Royal Sussex County Hospital, in Brighton, and the Princess Royal Hospital, in Haywards Heath, and said at the start of the weekend there were 25 patients booked to have surgery on broken bones this week, but by Monday morning that had doubled to 50.
Chief nurse Sherree Fagge urged people with less urgent or minor illnesses and injuries to consider alternatives to the emergency departments, such as the Brighton Station Health Centre.
Snow and ice caused disruption across Sussex on Monday, with nearly 200 schools either shut for the day or partially closed.
On Tuesday fewer than 10 schools reported being closed or partially closed.
Rail firm Southern said it was running an amended timetable on Tuesday and Gatwick Express was also reporting disruption to its services to and from London Victoria.
Southeastern said it was planning to run a "normal timetable", but more delays would be inevitable on Tuesday with some early morning services cancelled.
Gatwick Airport was operating as normal but warned there would be some delays due to weather conditions across the UK and Europe.